Daily talks in the Long Room on preservation activities in the Old Library will take place every weekday at 3pm. Talks last 15 to 20 minutes and are free for ticket holders to the Book of Kells exhibition as well as Trinity College students and staff.
What challenges and risks do the books in the Old Library face every day and how do we 'keep' the books? What is red rot and what does foxing and acid books mean?
What measures do we take so that library visitors can continue to enjoy and use special collections in the future? Why do we clean books, and what is the dirt? What are Smoke Sponges, Backuums, and unbleached cotton tape?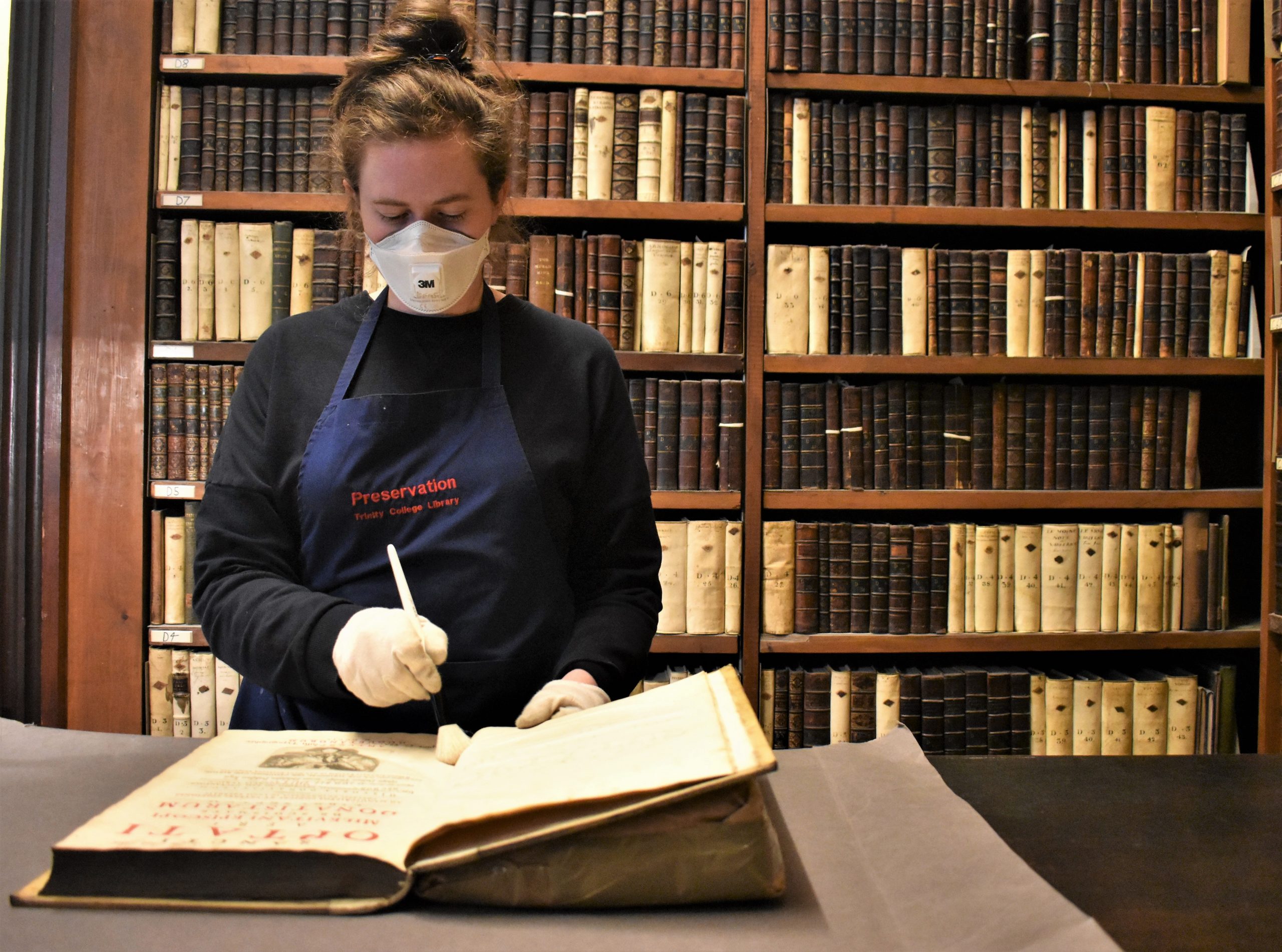 How has the Old Library building changed over the years since 1712? What type of books do we have in the Long Room and when were they made? How many books are there and how have the collections grown over the years?
To learn the answers to all of these questions and more, come to the Long Room in the Old Library to hear about keeping the collection of early printed books. The Preservation Assistants are part of an ongoing project, started in 2004, to systematically clean the 220,000+ books of the Old Library. The Preservation Assistants will explain the challenges of preserving a historic collection in a historic setting and explain how the books are cleaned and preserved for the future. Examples of books from the collection, dating from the 15th century to the 19th century will be shown.
Occasionally, other staff from the Preservation & Conservation Department may speak about preservation activities in the Old Library. Talks run Monday to Friday at 3pm until 30 April 2019 and last 15-20 minutes.
Alumni and current students can see the Book of Kells, access the Long Room, and attend these talks for free, with up to three guests.
Other visitors who have paid for entry to the Old Library are welcome to attend the Keeping the Books talks for no additional charge.
The talks begin on 6th August 2018 and run until 30th April 2019  at The Old Library in Trinity College Dublin.
Book your tickets to the Book of Kells Exhibition by clicking here